IT'S HERE! Collecting My New AMG GT R PRO!
페이지 정보
작성자
관리자

(66.♡.79.241)
댓글
0건
조회
49회
작성일

19-12-08 05:00
본문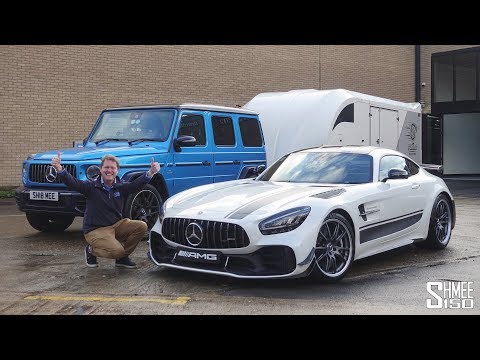 It is FINALLY time to collect my brand new AMG GT R PRO! After a long wait, how better to collect the new supercar than for the first time using my AMG G63 with a trailer to transport it to Topaz for PPF to be installed. There's going to be a lot of adventures to come with the Pro, I can't wait!
Kicking off from the garage, the first stop is to take my AMG G63 over to Topaz, where the Skin was installed, but also to meet with Tony from Turbo Transport to hook up the trailer with which we're going to be collecting the new car. Having passed my test earlier in the summer for towing this type of setup, it's time to finally put it to use and how better than one AMG to collect another!?
Logistically, a meet point at Topaz would make our day flow best, but also mean that Tony would be able to show me the ropes and help with the actual work to load and transport the new GT R Pro. We set off then to head towards Mercedes-Benz Brentford to take a first look at the new Shmeemobile.
On display sits the GT R Pro, one of only 750 total cars being made, with mine in designo Diamond White paintwork with the satin grey decals to contrast the main colour, along with the titanium RXE wheels and the exposed visual carbon fibre. Powered by the 4.0l TT V8, the Pro shares a similar setup to the G63 with 585hp but features a 7spd dual clutch as opposed to the 9spd auto used by the G for extra torque and off-roading.
Why not just drive it? Well as always with my cars, to prevent the risk of stone chips or damage, the car is immediately going to Topaz for the very best installation of Paint Protection Film to ensure it is always going to be in perfect shape. With horrible weather, and weird things happening on the roads around the time of year, not only does it protect the car but also gives an opportunity to use the G63 to tow. As such we unload back at Topaz before Tony is back on his way and it's time for the GT R Pro to head inside for detailing and the PPF install which we will see over the coming week or two.
If you're interested to know more about finance, and/or receive a quote, take a look at Shmee150 Finance powered by Harrington:
http://www.shmee150finance.com
A special thanks to GT (my salesman at MB Brentford), to Topaz and of course to Turbo Tony for his time to show me the ropes for my first towing outing, give him a follow here:
http://instagram.com/turbotransport
Thanks for watching, Tim
Subscribe:
http://bit.ly/Shmee150YT
Website:
http://www.shmee150.com
Shop:
http://shop.shmee150.com
Instagram:
http://www.instagram.com/shmee150
Facebook:
http://www.facebook.com/shmee150