SUPERCAR SHOPPING at the Insane Showrooms in Dubai!
페이지 정보
작성자
관리자

(66.♡.79.243)
댓글
0건
조회
40회
작성일

19-11-28 04:00
본문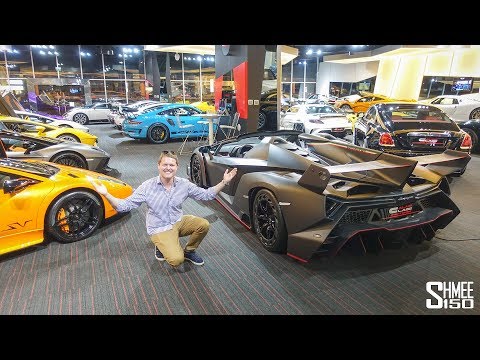 There's nowhere better than Dubai to find the very best hypercars and supercars for sale! Let's visit the greatest dealerships ever with streams of Bugattis, LaFerraris, P1s and more, including the extra special highlight of a full carbon Lamborghini Veneno Roadster!
Kicking off at the newest showroom in Dubai, Q Motors (Al Qalam Motors) we can check out the line-up of hypercars and limited edition supercars like the SVJ, Pista, GT2 RS, F12tdf, and some very nice specifications. The next stop is onwards to VIP Motors - home to an extraordinary array with three Bugattis at the front door, plus a McLaren P1 GTR and more.
Before heading onto the last stop I caught up with Sam from @seenthroughglass again during his Drive the World tour! After South Africa, Germany, California and more we're now crossing paths in the UAE but this time he's rolling around in a very nice Ferrari 488 Pista. Then it's on to Al Ain Class for the absolute highlight of the day; the Veneno Roadster in full exposed carbon fibre; the only one. Not only that though, the showroom is full of incredible treats all around.
You can always count on Dubai to offer up great cars, and it certainly didn't disappoint. I would like to extend a thanks to the hospitality of the various locations I visited.
Thanks for watching, Tim
Subscribe:
http://bit.ly/Shmee150YT
Website:
http://www.shmee150.com
Shop:
http://shop.shmee150.com
Instagram:
http://www.instagram.com/shmee150
Facebook:
http://www.facebook.com/shmee150