THIS Apollo IE is the Most Extreme Spec Hypercar EVER!
페이지 정보
작성자
관리자

(203.♡.241.128)
댓글
0건
조회
79회
작성일

19-11-25 03:00
본문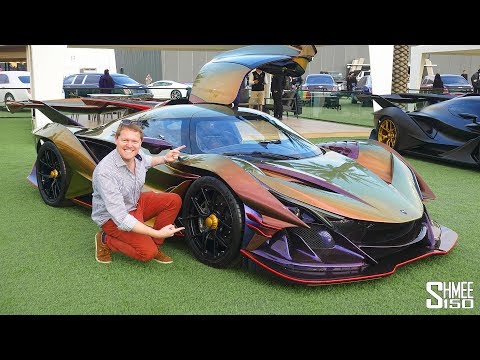 For extreme hypercars, the new Apollo IE is right at the top of the list! Only 10 are ever going to be built and this car belonging to @fastcarsandguns is one of the craziest possible specifications. Let's check out all the details and hear what the IE's V12 is like at the Riyadh Season Car Show in Saudi Arabia!
As part of one of the greatest hypercar events ever known, the Seven Concours at the Riyadh Car Show featured everything from the top end of the supercar world. A particular highlight is the presence of not one, but two Apollo IEs, one of which a brand new customer car, named the Apollo IE ML Golden Dragon and owned by @fastcarsandguns on IG.
The spec features not one but two flip-flop paint colours, plus other accent touches, logos, and unique features to make it really and truly one of a kind. To take a look around, I am joined by none other than James The Stradman before the owner himself shows us a few further features.
You can check out ML at:
http://instagram.com/fastcarsandguns
And of course James:
http://youtube.com/thestradman
It has been the most amazing visit with thanks to Riyadh Season, attending the car show and more. Follow their pages for more updates:
http://instagram.com/riyadhseason
http://facebook.com/riyadhseason
http://twitter.com/riyadhseason
https://www.youtube.com/channel/UC2IV4srmjG3d3FAEE88n4_A
Thanks for watching, Tim
Subscribe:
http://bit.ly/Shmee150YT
Website:
http://www.shmee150.com
Shop:
http://shop.shmee150.com
Instagram:
http://www.instagram.com/shmee150
Facebook:
http://www.facebook.com/shmee150