THIS 1,400bhp Hennessey DEMON is Angry on the Dyno!
페이지 정보
작성자
관리자

(211.♡.150.194)
댓글
0건
조회
56회
작성일

19-11-06 03:00
본문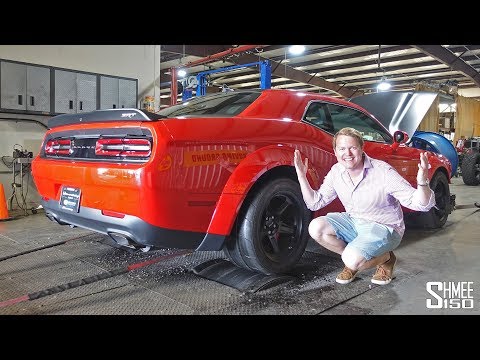 When it comes to big power, Hennessey know a thing or two! With a 1,400bhp Demon on the dyno we're going to see the action during a visit to the workshop. We can also check out the brand new ZL1 Resurrection, view the Venom GT hypercar, and more of the new cars plus a run in the Velociraptor V8 on the private track.
The Demon would normally have 808bhp, up from the 707bhp of the Hellcat, but in the case of this car thanks to taking away the supercharger and fitting twin turbos mounted outboard at the front the power jumps significantly. The exhaust exits then also sit right up front ahead of the front tyres making it quite clearly a very track focused beast.
Also on site we can look at Hennessey's first hypercar in the form of the Venom GT, while seeing the concept again for the soon to arrive Venom F5. In addition we have the new Goliath, Maximus, Resurrection and even the run out in one of the Velociraptor V8s.
You can follow more from Hennessey here:
https://www.youtube.com/channel/UC8Jgn2dTAEvsV9YezsV3mSQ
http://instagram.com/hennesseyperformance
Thanks for watching, Tim
Subscribe:
http://bit.ly/Shmee150YT
Website:
http://www.shmee150.com
Shop:
http://shop.shmee150.com
Instagram:
http://www.instagram.com/shmee150
Facebook:
http://www.facebook.com/shmee150