My Friend's Insane Lamborghini has a BAZOOKA Exhaust Mode!
페이지 정보
작성자
관리자

(77.♡.14.242)
댓글
0건
조회
32회
작성일

19-10-08 02:00
본문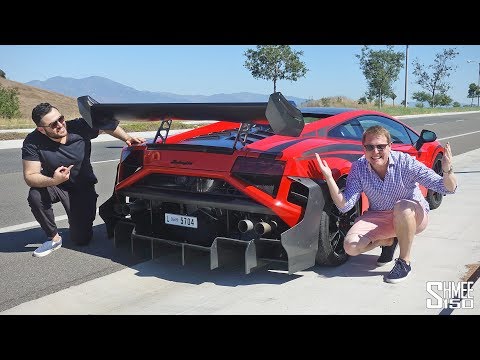 There's crazy, and then there's absolutely insane and my friend Stig's Persian Cousin's ultra rare Lamborghini Gallardo Super Trofeo Stradale is exactly that. The modifications are endless, and the bonkers sounds it makes can only be associated to machine guns or a bazooka! What to you think of this huge Lamborghini tuning project?!
5-6 years ago we filmed together a few times some videos with this very car in Dubai, back at the time it was much more stock but still with a stupidly loud exhaust, however that's now even louder. The car itself is one of around 86 STS' that Lamborghini ever produced of the intended 150 unit build run, so already a very rare final special edition as a road car (Stradale) of the Super Trofeo racecar. For example it now has a half-cage, harnesses, racing dashboard and steering wheel, huge wing and diffuser, racing suspension, and of course a straight exhaust,
Starting off with the crazy scenario that we have a car from Dubai and my Ford GT from the UK, here together in Los Angeles, we leave the GT for today to take out the machine gun Lambo to get a feel for what all of this is about.
Be sure to follow more of Stig's Persian Cousin's adventures with the Lambo on:
https://www.youtube.com/stigspersiancousin
http://instagram.com/stigspersiancousin
Thanks for watching, Tim
Subscribe:
http://bit.ly/Shmee150YT
Website:
http://www.shmee150.com
Shop:
http://shop.shmee150.com
Instagram:
http://www.instagram.com/shmee150
Facebook:
http://www.facebook.com/shmee150