FINDING TWO UNICORNS! Lamborghini Veneno Coupe and Roadster
페이지 정보
작성자
관리자

(66.♡.79.87)
댓글
0건
조회
20회
작성일

19-08-09 02:00
본문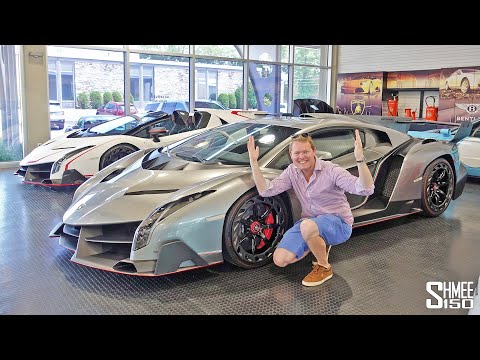 Finding a Lamborghini Veneno is a dream as the car is a complete unicorn, but what about finding TWO VENENOS! Already excited about heading to see the one, the second came as an epic surprise at Lamborghini Long Island.
Kicking off from the garages of my friend @aimotorsports, we take out the Huracan Performante as the right pick from the collection to go over towards Lamborghini Long Island. Along the way is a fantastic opportunity to enjoy the V10, with a surprise highlight on arrival of the recent Daytona 24H winning Huracan GT3. Around the back though is what we came to see...
Having thought I was on the way to discover one Lamborghini Veneno, you can imagine my surprise to find actually both the Roadster and a Coupe as well! The fixed roof is one of just 3 and the open top is one of only 12, cars that you rarely see anywhere. Based on the Aventador platform, the Veneno was introduced as a demonstration of extremities from the one-offs program and you can certainly get that feeling when in its presence.
Join me then to head over to the dealership to pull back the covers and see these unbelievable cars revealed and look at them in more detail. A huge thanks to both @aimotorsports and Lamborghini Long Island for putting together the day.
Be sure to follow @aimotorsports at:
http://instagram.com/aimotorsports
A special thanks of course also to Lamborghini Long Island:
https://instagram.com/lamborghinilongisland
Thanks for watching, Tim
Subscribe:
http://bit.ly/Shmee150YT
Website:
http://www.shmee150.com
Shop:
http://shop.shmee150.com
Instagram:
http://www.instagram.com/shmee150
Facebook:
http://www.facebook.com/shmee150