There's a Pagani Zonda R in the LIVING ROOM!
페이지 정보
작성자
관리자

(119.♡.40.183)
댓글
0건
조회
28회
작성일

19-08-08 02:00
본문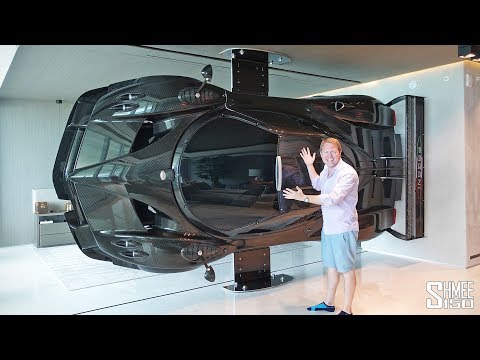 This is a car collection with a difference! Not only does a Pagani Zonda Revolucion take the flagship roll in the mancave, but there's a Zonda R inside @69rideofdie's living room! Join me to explore this incredible garage and private car collection, as well as the totally unique and unbelievably cool setup.
Getting started in the garage, there is an eclectic selection of race cars; highlighted for me by the Pagani Zonda Revolucion. Sitting around it there are road going supercars like the McLaren Senna (a friend currently borrowing a space from the Pagani Huayra BC that's on the way back from Europe), Porsche GT2 RS and Lamborghini Gallardo Squadra Corse. In addition there are 3 World Rally Championship cars, a Dakar Rally car, a NASCAR, 2 Indycars, a Huracan Supertrofeo, Prage and some superbikes... all presented in an environment for the purpose with flags hanging, tyres stacked, and ornaments on display.
The Pagani Zonda Revolucion is one of only 5 that were built and this one has been used properly being driven at racetracks on 3 different continents. The Revolucion followed from the 15 Zonda Rs and 1 R Evolution, and has a 6.0l V12 that makes 800hp along with it only weighing 1,070kg.
However, it's heading over to @69rideordie's apartment that's really setting us up for something unique. Acting as a dividing wall between the living room and bedroom is a Pagani Zonda R! It may not run the entire engine and running gear but the bodywork is complete and displayed to behold in full glorious exposed carbon fibre.
A huge thanks to @69rideordie for the opportunity to share this incredible race car collection and special home feature, be sure to follow for more at:
http://instagram.com/69rideordie
Thanks for watching, Tim
Subscribe:
http://bit.ly/Shmee150YT
Website:
http://www.shmee150.com
Shop:
http://shop.shmee150.com
Instagram:
http://www.instagram.com/shmee150
Facebook:
http://www.facebook.com/shmee150