I've BOUGHT BOTH the AMG GT R Roadster and GT R Pro!
페이지 정보
작성자
관리자

(66.♡.79.89)
댓글
0건
조회
38회
작성일

19-07-08 02:00
본문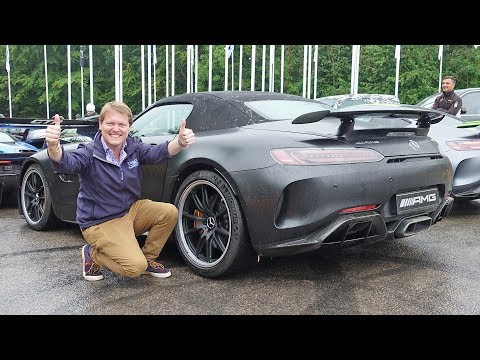 Exciting news, I've ordered the new AMG GT R Roadster! As well, my allocation for the AMG GT R Pro has also been confirmed and the two cars will soon be joining the garage! Despite the weather, let's get a taster for the GT R Roadster, roof down in the rain blasting up the Goodwood hillclimb!
After epic miles and memories with my AMG GT R Coupe over the last 2 years both new cars will be arriving and be together in the garage. The AMG GT R Pro will be first up around October this year, with the Roadster following approximately 6 months later in March 2020; and both will be joining the G63 an A45 S in the collection.
The AMG GT R has simply been one of my absolute favourite cars to date, usable for just about any purpose with immense capabilities and great levels of tech and comfort. The Pro and Roadster are two amazing machines, both limited to 750 units but with some differences between their usage intentions of course; one with a cage and harnesses, the other with an open top. I'm not going to write that buying both cars makes sense, it doesn't, but these cars are incredible and both will be used.
The GT R Roadster and Pro both share the 4.0l TT V8 with 585hp, and are both from the new facelifted and updated family meaning new lights, better interior technology and infotainment, and a few new features added. Of course wearing the Sport Cup 2 tyres there's a struggle for traction with the standing water found on the hillclimb but that doesn't stop it being a fun ride up the hill with Elliott Cole at the wheel.
There will be more details on specs, and exact arrival timings soon, but of course this does mean the AMG GT R will soon be departing from the garage to make way for the two new ones.
Thanks for watching, Tim
Subscribe:
http://bit.ly/Shmee150YT
Website:
http://www.shmee150.com
Shop:
http://shop.shmee150.com
Instagram:
http://www.instagram.com/shmee150
Facebook:
http://www.facebook.com/shmee150