I've BOUGHT a New AMG A45 S!
페이지 정보
작성자
관리자

(66.♡.79.82)
댓글
0건
조회
33회
작성일

19-07-07 02:00
본문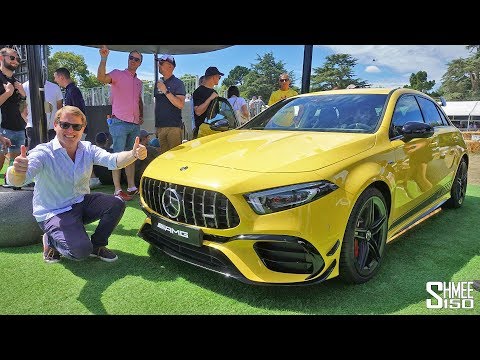 The brand new AMG A45 S is to be a future Shmeemobile! I've placed an order for the new pocket rocket and to get a teaser for what it's going to be like, join me for a thrilling passenger ride featuring Drift Mode in action.
Straight at the global debut at the 2019 Goodwood Festival of Speed, join me to see the new car and take a walkaround of the details. The 2.0l turbo 4-cyl engine now packs a huge 421hp in the A45 S (387hp in the A45 non-S) along with a very trick 4matic+ system that offers a new type of Drift Mode to enable maximum fun from the hot hatch. With 0-100km/h being dispatched in just 3.9 seconds, when we head out to the start line for the hillclimb run with Adam Christodoulou at the wheel, it's time to have some fun!
Race Mode gets us started, the car shifting incredibly fast with the 8spd double clutch, but then it's straight into some sideways action to liven things up. I tell you what though, I can't wait to have some fun with mine like this when it comes! You can find Adam's Instagram here:
http://instagram.com/adamchristo
There are more details still to come, but I'll fill you in with it all as and when I have them. I'm very much looking forward to the A45 S joining the G63 in the garage, plus there's more AMG GT news to follow.... stay tuned!
Thanks for watching, Tim
Subscribe:
http://bit.ly/Shmee150YT
Website:
http://www.shmee150.com
Shop:
http://shop.shmee150.com
Instagram:
http://www.instagram.com/shmee150
Facebook:
http://www.facebook.com/shmee150