I'm Making Changes to My Ford GT!
페이지 정보
작성자
관리자

(17.♡.102.65)
댓글
0건
조회
42회
작성일

19-05-11 02:00
본문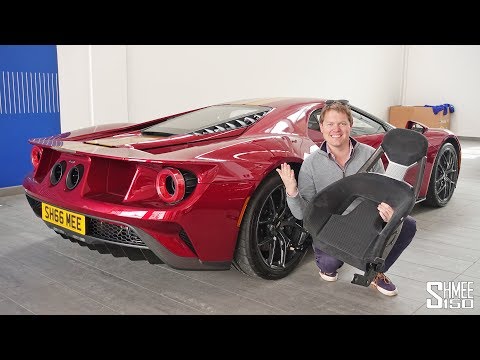 My Ford GT is ready for some changes to be made to the interior! Kicking off the 2019 Where's Shmee Eurotour, we load it up in London before flying to Italy to get the seats taken out and over to Sparco to start work on some unique touches to build on the tribute to Alan Mann Racing. I think you're going to like what's coming!
The Ford GT has already solidly cemented its place in my permanent car collection as a keeper for the long term. The car itself is painted in the Alan Mann Racing tribute livery featuring Ford's Liquid Red, with the Mann Gold racing stripes, but in terms of the interior it was not possible from factory to originally make any bespoke touches or changes away from a number of pre-defined configurations.
I ordered mine with the full Alcantara interior, named Dark Energy, with the hope to add some unique touches in the future and now that time has arrived. With the original seats created and trimmed by Sparco in Italy, we've arranged for a completely one-off opportunity to make the interior bespoke and build on the colours of the exterior inspired by the Gulf Heritage Edition Ford GT for 2019 and 2020.
After its 1,000 mile journey to Italy, the first stop is Ambrostore, the Ford Store in Milan, to remove both parts of each seat by their trained technicians. These are then brought over to Sparco where we can explore parts of the facility where the seats themselves are assembled, stitched and embroidered while seeing what the plans are for mine coming up.
The intention is to create a smart and tidy result using stitching and embroideries against the otherwise very dark interior of the car, using the colours perfectly matched to the exterior. It's an incredibly special opportunity to be able to make these changes, as typically you cannot configure a Ford GT in this way, but a real tribute to the very special GT40s of the 60s by tying in a look that I'm very excited for.
This is just the start of a very big tour over the coming month featuring an action packed schedule with a lot to come. The Ferrari GTC4Lusso will be taking up the majority of the duties over the coming weeks, joined for parts by the Ford GT, McLaren Senna and McLaren 675LT Spider.
A big thanks goes to Sparco for their help with this project, and you can also receive 10% off in their shop at:
https://shmee150.com/shop/sparco-15-discount-coupon-code/
You can follow Sparco too at:
http://instagram.com/sparco_official
Thanks for watching, Tim
Subscribe:
http://bit.ly/Shmee150YT
Website:
http://www.shmee150.com
Shop:
http://shop.shmee150.com
Instagram:
http://www.instagram.com/shmee150
Facebook:
http://www.facebook.com/shmee150