My First Ferrari GTC4Lusso Autobahn Run! 320km/h
페이지 정보
작성자
관리자

(66.♡.79.244)
댓글
0건
조회
12회
작성일

19-04-11 02:00
본문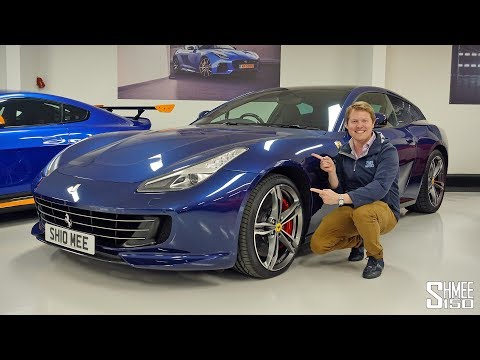 The Ferrari GTC4Lusso has one of the greatest engines of this time, and the V12 certainly needs to be heard. Where better then than to take the newest Shmeemobile on the destricted sections of the German Autobahns back home and push on to 320km/h!
We kick off from Thornhedge Car Storage in the Netherlands, where my cars have been kept (in some great company!) following IAMS, the Amsterdam Motorshow. Between the 6 cars that came over from London in 1 big truck, they are heading now to 4 different destinations. The McLarenSenna and Ford GT are sticking around for Spring Event and then Car Freitag at the Nurburging. The 675LT Spider and Aston Martin GT8 are being loaded up to head back home, while the Red Focus RS is going for some further modifications and then to Car Freitag as well. But that leaves us for now with the Ferrari GTC4Lusso and a 4 hour drive back to my place in Frankfurt down some destricted Autobahns.
Having bought the Lusso used with just over 4,000 miles on the clock, that means it's fully run in and ready to be used properly. However, up to this point I only drove it home from Bramley's on collection day, then Shmarc drove it to Mountune, and all I've done with it is move it in and out of trucks so this is really my first proper drive with it!
What better than to have multiple open stretches to really let that 6.3 litre naturally aspirated V12 scream away on the destricted Autobahns. With a reported top speed of 335km/h (208mph), it's clear that the 690hp of the GTC4Lusso has no problems pushing on quickly and a few short stretches let me experience that itself. As it gets later into the night and the roads clear, I'm able to push up to 300km/h (186mph) a number of times and even on to a quickest speed of 320km/h (199mph). Of course car preparation and conditions are absolutely crucial to this; as is being very aware of traffic and what's going on around you. It feels very sure that the Lusso can reach its claimed top speed, although my initial GPS tests suggesting it's probably about 4km/h out on the speedometer at that speed. (N.B. All cars over-read on the speedo as by law they cannot under-read, normally by more than this)
I hope you enjoy the sounds of the V12 blasting flat out down the motorways, this is what the car is built for!
Thanks goes to Thornhedge Car Storage:
https://www.thornhedge.nl/
https://www.instagram.com/thornhedgecarstorage/
Thanks for watching, Tim
Subscribe:
http://bit.ly/Shmee150YT
Website:
http://www.shmee150.com
Shop:
http://shop.shmee150.com
Instagram:
http://www.instagram.com/shmee150
Facebook:
http://www.facebook.com/shmee150