This is the LOUDEST BMW M2 Competition! | TUNING PROJECT
페이지 정보
작성자
관리자

(66.♡.71.27)
댓글
0건
조회
31회
작성일

19-04-07 02:00
본문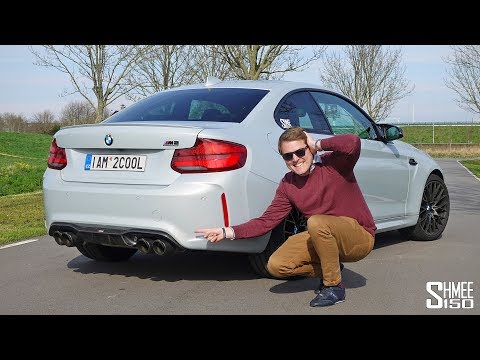 This is must be the loudest BMW M2 Competition out there! Thanks to a complete exhaust system from Akrapovic with a slip-on back box and catless downpipes it knows how to make a lot of noise. It's Shmarc150's car and has already done a lot of miles; so let's catch up to find all about it and experience some revs and a ride.
While I'm in the Netherlands for IAMS, the Amsterdam Motorshow, with my cars on the display stand we've been getting around in Shmarc150's M2C. Marc is the manager of Shmee150 (hence the name) and has already managed to rack up a full 18,000km on the car in only 6-7 months. During that time it's also received a hefty number of modifications and well on the way to being a proper tuning project as well.
The BMW M2 Competition has been fitted with an Akrapovic Slip-On exhaust system combined with an Akrapovic Linkpipe offering OPF delete and Akrapovic catless downpipes. The beautiful Eventuri Carbon intake system fitted in the engine compartment offers an increase of between 12-20hp and 12-16ft-lb. Other upgrades currently on the M2C include Akrapovic carbon fiber mirror caps and an Akrapovic carbon fiber rear diffuser on the outside, and a plethora of smaller M Performance upgrades inside the interior plus an AWRON vent gauge used by Marc for his technical development work for future tuning products.
Future upgrades to the car will be an AST Suspension 5100 kit that will be fitted in May along with 19 inch BBS FI R wheels which will shave off 20 kgs of unsprung mass. The brake kit will get Pagid RS29 brake pads and new Tarox brake oil to deal with the weak braking performance on track. The carbon fiber roof, bonnet and trunk from BMW M Performance will be the cherry on the cake before one final upgrade is done, which we will keep as under wraps for now.
Special thanks to all tuning partners:
http://www.akrapovic.com
http://www.eventuri.net
http://www.ast-suspension.com
http://www.awron.de
http://www.bbs.com
Decals & Stickers:
https://shmee150.com/product-category/decals-stickers/
M Town Competition:
https://shmee150.com/m-town-competition-win-one-of-four-goodie-bags/
Thanks for watching, Tim
Subscribe:
http://bit.ly/Shmee150YT
Website:
http://www.shmee150.com
Shop:
http://shop.shmee150.com
Instagram:
http://www.instagram.com/shmee150
Facebook:
http://www.facebook.com/shmee150