Is this the Greatest Supercar Display Ever!?
페이지 정보
작성자
관리자

(66.♡.79.89)
댓글
0건
조회
16회
작성일

19-04-06 02:00
본문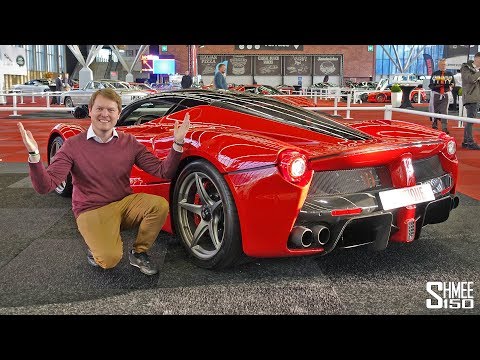 Let's explore one of the greatest car displays ever put together! Inside the halls of IAMS, the Amsterdam Motorshow, is everything from the Ferrari hypercar line-up both new and old, 2 Bugatti Chirons, to unusual cars like the SLR Stirling Moss, Italdesign Zerouno, P1 GTR, 11 Spykers, Maybach Landaulet, and much more.
Things get started with the Ferraris; the line consists of the more modern era hypercars and supercars including LaFerrari, Enzo, F50, F40, TDF, GTO and an array of insanely expensive 250 models from the 1960s including a 250 California Spyder and 250 SWB.
It's not just the Ferraris though, to be found in the madness are many special Mercedes cars including: SLR Stirling Moss, CLK GTR, SLS AMG Electric Drive, G650 Landaulet, SLR 722 GT, CLK DTM Coupe and Roadster.
That's still not all though, then we have a Koenigsegg CCXR, Pagani Huayra, Italdesign Zerouno, Porsche 918 Spyder, McLaren P1 GTR, SSC Ultimate Aero, the 2 Bugatti Chirons and a Veyron. It then goes on with the Novitec 720S N-Largo, 2x F12 N-Largos, plenty more tuning cars, as well as the latest supercars like the Lamborghini Aventador SVJ, Ferrari 812 Superfast, Porsche GT2 RS and so on.
An unusual display comes in the form of the Spyker celebration with 11 models on show including the 2006 D8 Peking to Paris super-SUV. Another special area are the 4 different generations of Ford Mustang Bullitt. And of course there is also the stand with the 6 Shmeemobiles including the Senna, Ford GT and the brand new Ferrari GTC4Lusso.
My cars will remain on display throughout the show, and you can get your tickets now here:
https://bit.ly/2GlNfxj
Thanks for watching, Tim
Subscribe:
http://bit.ly/Shmee150YT
Website:
http://www.shmee150.com
Shop:
http://shop.shmee150.com
Instagram:
http://www.instagram.com/shmee150
Facebook:
http://www.facebook.com/shmee150