HERE is the Spec of My Toyota GR SUPRA!
페이지 정보
작성자
관리자

(66.♡.64.82)
댓글
0건
조회
8회
작성일

19-03-10 03:00
본문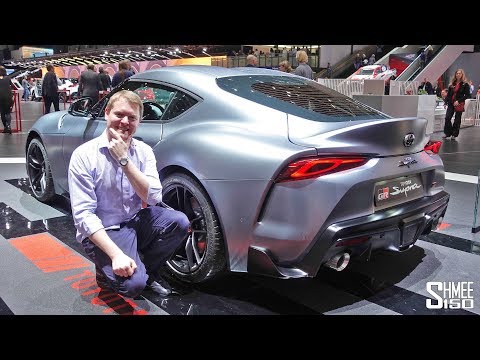 It's time for some news on my Toyota GR Supra! I ordered the new car a few months ago, and many of you have asked what the spec is going to be so with an e-mail arriving in my inbox just a few days ago I can now announce to you what it's going to be and whether I secured an A90 Edition!
Toyota have announced that the 900 Supra allocations for Europe in 2019 are now fully sold out - including the 300 for the UK. Out of these there are only going to be a total of 90 units of the special A90 Edition; 24 of which are allocated to the UK. Toyota UK e-mailed the 300 UK customers with 24hrs notice for the pre-sale and spec ordering system to open and it took merely just over 1 minute from that opening until they were all sold out! However, good news for me, I was sitting there constantly refreshing away and managed to get my name down to secure one of the A90 Edition cars and that means mine will be the special Matte Storm Grey paintwork.
At the 2019 Geneva Motorshow we can take a look around two GR Surpas on display, the A90 Edition and a red Premium spec car to discuss the other options that are going to come as standard on my car. In terms of time scales we are expecting the UK cars towards Autumn, possibly that means September for the first deliveries but time will tell as it is not yet confirmed.
The next big question is to talk about modifications and what should be done with my car?! TRD in Japan have released their carbon fibre body kit options, but what about going further with a widebody? There are also options for performance increases and a new exhaust system - or given it's such a special A90 Edition should I concentrate on keeping it factory standard? Decisions to be made!
Also on the Toyota stand is the new GR Supra GT4 Concept racecar, so we can take a quick look at that while pondering what will happen next with the future Shmeemobile and the adventures I'll be sharing with you.
Thanks for watching, Tim
Subscribe:
http://bit.ly/Shmee150YT
Website:
http://www.shmee150.com
Shop:
http://shop.shmee150.com
Instagram:
http://www.instagram.com/shmee150
Facebook:
http://www.facebook.com/shmee150