The CRAZIEST Bugatti Chiron EVER! Mansory Centuria | FIRST LOOK
페이지 정보
작성자
관리자

(66.♡.79.241)
댓글
0건
조회
13회
작성일

19-03-09 03:00
본문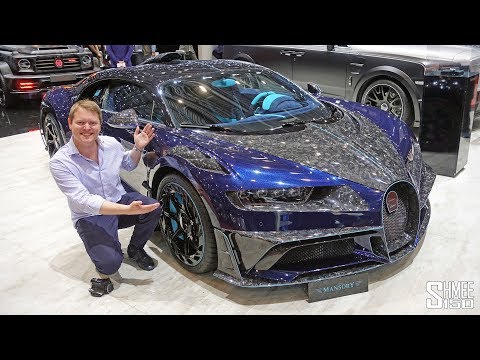 What happens when Mansory take their work to the Bugatti Chiron? You get the Centuria! Join me for a first look at the new car along with the others on their stand at the 2019 Geneva Motorshow including the Aventador Carbonado EVO, Cullinan Billionaire, G63 Philipp Plein Star Trooper and more.
Standing out from the crowd, the Mansory Centuria takes the Bugatti Chiron up a notch with new bodywork, a new look interior, and new dramatic forged carbon and paintwork. The entire car is reworked from the bumpers and louvres to a roof snorkel on the top and a larger wing. It's fitted with new carbon wheels as well as an interior designed to match with new trims and materials.
Elsewhere on the stand, the Lamborghini Aventador S has been transformed into a Carbonado EVO with 1,250hp thanks to the addition of twin turbocharges to go with the full 'stealth bomber' carbon bodywork. Alongisde it sits the Venatus, a one-off based on the Lamborghini Urus again with new carbon fibre bodywork and a revised interior.
Standing out for both its size and materials is the Rolls-Royce Cullinan 'Billionaire' emblazoned with the logos of Billionaire Counture throughout the interior and exterior.
Also on the stand can be found the Mercedes-AMG S63 Convertible, Bentley Continental GT, Lotus Evora GTE, Brabus Smart and all finished in completely unique ways. Quite simply put, nobody creates drama in the way Karoush Mansory and his team manage to do so - and this year's presence at Geneva must have been the strongest yet.
Thanks for watching, Tim
Subscribe:
http://bit.ly/Shmee150YT
Website:
http://www.shmee150.com
Shop:
http://shop.shmee150.com
Instagram:
http://www.instagram.com/shmee150
Facebook:
http://www.facebook.com/shmee150