A Message for CCIV Stockholders | Lucid Motors
페이지 정보
작성자
관리자

(66.♡.65.41)
댓글
0건
조회
0회
작성일

21-07-21 15:02
본문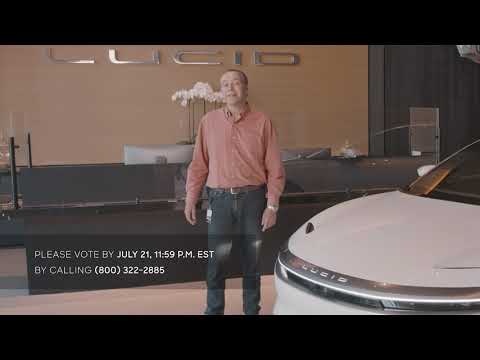 CEO, Peter Rawlinson, shares a special message to $CCIV stockholders urging them to vote before the deadline at 11:59 AM EST on Wednesday July 21st.
Vote today by calling MacKenzie Partners, Churchill IV's proxy solicitor, toll-free at +1-(800)-322-2885 or +1-(212)-929-5500.
#LucidMotors #PeterRawlinson #CCIV
SUBSCRIBE NOW:
http://bit.ly/LucidMotorsSubscribe
RESERVE YOUR LUCID AIR:
https://bit.ly/2RRZlFI
About Lucid Motors: Lucid Motors is the next generation of EVs. Our relentless focus on innovation, luxury, and sustainability drives us into a reality where you no longer have to choose between doing great things and doing the right thing — all while building the most elegant, efficient designs the world has ever seen. There were luxury cars. Then EVs. Now there's Lucid Motors.
Connect with Lucid Motors:
Join the LUCID MOTORS NEWSLETTER:
https://bit.ly/2QWdn95
Visit LUCID MOTORS WEBSITE:
https://bit.ly/3yAvxhD
Like LUCID MOTORS on FACEBOOK:
https://facebook.com/lucidmotors
Follow LUCID MOTORS on TWITTER:
https://twitter.com/LucidMotors
Follow LUCID MOTORS on INSTAGRAM:
https://www.instagram.com/lucidmotors/
A Message for CCIV Stockholders | Lucid Motors
https://www.youtube.com/LucidMotors