BMW Today – Episode 28: M5 CS.
페이지 정보
작성자
관리자

(66.♡.79.197)
댓글
0건
조회
25회
작성일

21-01-29 18:00
본문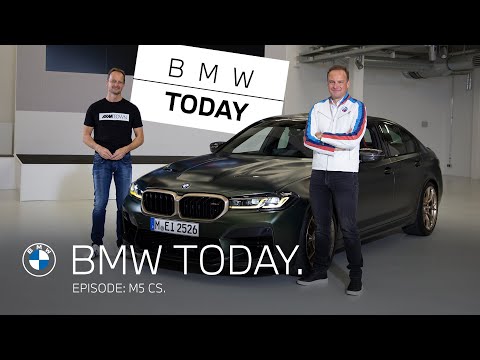 Welcome to this new, ultra-sporty episode of BMW Today. Here's a real treat for you: the all-new BMW M5 CS. An even sportier, more luxurious and exclusive edition of the BMW M5.
The BMW M5 CS is the new flagship model of the BMW M line-up, equipped with the most powerful engine: a 4.4-litre V8 with M TwinPower Turbo technology that develops 467 kW (635 hp) at 6,000 rpm, and has a peak torque of 750 Nm (553 lb-ft) which is produced from 1,800 – 5,950 rpm.
The exterior has exclusive accents in Gold Bronze and features several body elements made from carbon fibre-reinforced plastic (CFRP), such as the bonnet, the rear diffusor and the M Power engine compartment cover. Standard specifications for the M5 CS include a stainless-steel sport exhaust system with four unadorned tailpipes and the M Carbon ceramic brakes. Their callipers are painted in Red as standard, or in Gold as an option. The L-shaped light tubes of the BMW Laser headlights illuminate in yellow instead of white when in low or high-beam. If the Welcome Lights are switched on, the yellow illumination is bringing successful GT racing cars to mind.
The exceptional driving experience on board the BMW M5 CS can be enjoyed by four people at the same time. Driver and front passenger are hereby seated in M Carbon seats, and the two other passengers in their individual rear seats. The black Merino leather covers (fine-grain for the front seats) also feature eye-catching contrasting panels and decorative stitching in Mugello Red.The integral head restraints – with illuminated M5 logos on the front seats – display an outline of the legendary Nürburgring circuit. The centre marker perforation with red background on the M Alcantara steering wheel gives the car a classical racing touch. Also, the gearshift paddles are made from carbon fibre and the steering wheel spokes come with a Black Chrome trim.
The market launch of the new BMW M5 CS will get underway in spring 2021.
You can go fast if the car gives you confidence. Well, the all-new BMW M5 CS is the confident booster of the highest order.
► For more upcoming videos subscribe to the BMW YouTube Channel:
http://b.mw/youtube-subscribe
► Explore More Videos:
BMW TODAY Playlist:
https://www.youtube.com/playlist?list=PLa5S6UwF22IIKANKzk7LF_vbf3fnRs2wQ
BMW TODAY - Episode 13: BMW M Performance Parts.
https://youtu.be/cumJYxggCSE
BMW Today – Episode 25: World premiere BMW M3 & M4
https://youtu.be/UcEY5kWv_ZU
► Follow BMW on Social Media:
Instagram:
http://b.mw/instagram
Facebook:
http://b.mw/facebook
Twitter:
http://b.mw/twitter
#BMW #BMWToday
BMW Sheer Driving Pleasure
__
BMW M5 CS: Fuel consumption weighted combined in l/100km: 11.3–11.1 (NEDC); 11.3–10.9 (WLTP), CO2 emissions weighted combined in g/km: 258–253 (NEDC); 257–248 (WLTP).
Official data on fuel consumption and CO2 emissions were determined in accordance with the mandatory measurement procedure and comply with Regulation (EU) 715/2007 valid at the time of type approval. In case of a range, figures in the NEDC take into account differences in the selected wheel and tire size; figures in the WLTP take into account any optional equipment. WLTP values are used for assessing taxes and other vehicle-related charges that are (also) based on CO2 emissions, as well as for the purposes of vehicle-specific subsidies, if applicable. Where applicable, the NEDC values listed were calculated based on the new WLTP measurement procedure and then converted back to the NEDC measurement procedure for comparability reasons. For more information on the WLTP and NEDC measurement procedures, see
www.bmw.de/wltp.

For
further information about the official fuel consumption and the specific CO2 emission of new passenger cars can be taken out of the "handbook of fuel consumption, the CO2 emission and power consumption of new passenger cars", which is available at all selling points and at
https://www.dat.de/angebote/verlagsprodukte/leitfaden-kraftstoffverbrauch.html.