Mercedes-Benz CLA Coupé (2019) World Premiere at CES in Las Vegas | Re-Live
페이지 정보
작성자
관리자

(66.♡.65.138)
댓글
0건
조회
61회
작성일

19-01-09 04:24
본문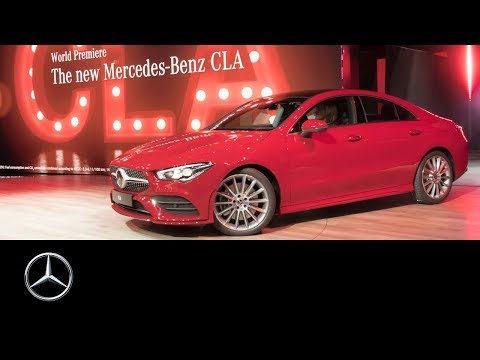 Missed the Mercedes-Benz CLA Coupé (2019) world premiere at Consumer Electronics Show (CES) in Las Vegas? Here you can watch it in full length again. The new CLA does justice to its predecessor's status as a design icon. Learn more:
http://mb4.me/cla-coupe-com_ytb
The new CLA Coupé is not only the most emotional vehicle in its class, it is also highly intelligent: from MBUX Interior Assist, which recognises operational demands from gestures and equips the interior with intelligence, through augmented reality for navigation and understanding indirect voice commands to the ENERGIZING COACH that provides individual fitness recommendations, the new CLA offers an array of clever solutions. There are also ingenious details when it comes to the aerodynamics and new functions for the Intelligent Drive driving assistance package.
CLA 250:
Kraftstoffverbrauch kombiniert: 6,3–6,1 l/100 km;
CO₂-Emissionen kombiniert: 143–140 g/km.*
EQC 400 4MATIC:
Stromverbrauch kombiniert: 22,2 kWh/100 km;
CO₂-Emissionen kombiniert: 0 g/km.**
► For direct selection of a specific chapter please select below:
0:44 EQC Wedding Special
3:39 Welcome
4:16 Vision URBANETIC
5:21 EQC
5:44 Outlook
6:46 CLA Intro
11:50 CLA
14:59 Retrospect
► Subscribe to Mercedes-Benz on YouTube:
http://www.youtube.com/subscription_center?add_user=MercedesBenzTV
► Experience the world of Mercedes-Benz:
http://benz.me/international/
► More interesting playlists:
CLA:
https://www.youtube.com/playlist?list=PL0ORtgsuktfm_1lGPhPA6-OjtRQXfMypl
Mercedes-Benz Coupés:
https://www.youtube.com/playlist?list=PL0ORtgsuktfm0HbXSaxnDEGUjblVBhiYr
World Premieres:
https://www.youtube.com/playlist?list=PL0ORtgsuktfmM5Z5MeX__m1wRwt0og9ce
► Mercedes-Benz on Social Media:
https://facebook.com/MercedesBenz
https://twitter.com/MercedesBenz
https://instagram.com/mercedesbenz
Product may vary after press date on 08.01.2019.
* Die angegebenen Werte wurden nach dem vorgeschriebenen Messverfahren ermittelt. Es handelt sich um die "NEFZ-CO₂-Werte" i. S. v. Art. 2 Nr. 1 Durchführungsverordnung (EU) 2017/1153. Die Kraftstoffverbrauchswerte wurden auf Basis dieser Werte errechnet. Der Stromverbrauch wurde auf der Grundlage der VO 692/2008/EG ermittelt. Die Angaben beziehen sich nicht auf ein einzelnes Fahrzeug und sind nicht Bestandteil des Angebots, sondern dienen allein Vergleichszwecken zwischen verschiedenen Fahrzeugtypen. Die Werte variieren in Abhängigkeit der gewählten Sonderausstattungen. Weitere Informationen zum offiziellen Kraftstoffverbrauch und den offiziellen spezifischen CO₂-Emissionen neuer Personenkraftwagen können dem "Leitfaden über den Kraftstoffverbrauch, die CO₂-Emissionen und den Stromverbrauch aller neuen Personenkraftwagenmodelle" entnommen werden, der an allen Verkaufsstellen und bei der Deutschen Automobil Treuhand GmbH unter
www.dat.de
unentgeltlich erhältlich ist.
** Angaben zum Kraftstoffverbrauch und CO₂-Emissionen sind vorläufig und wurden vom Technischen Dienst für das Zertifizierungsverfahren nach Maßgabe des WLTP-Prüfverfahrens ermittelt und in NEFZ-Werte korreliert. Eine EG-Typgenehmigung und Konformitätsbescheinigung mit amtlichen Werten liegen noch nicht vor. Abweichungen zwischen den Angaben und den amtlichen Werten sind möglich.