All You Need to Know About the New EQA
페이지 정보
작성자
관리자

(66.♡.79.109)
댓글
0건
조회
14회
작성일

21-07-08 01:00
본문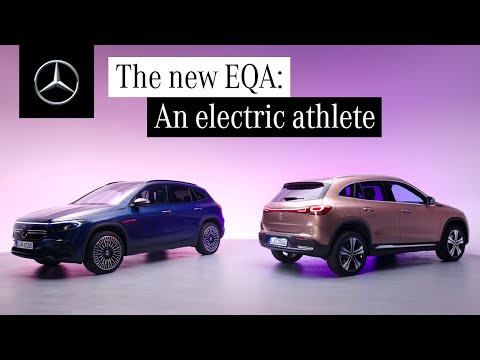 The new EQA by Mercedes-EQ is an electric athlete in the body of a compact SUV. And it is the entry model for the fully electric product range of Mercedes-EQ. Subscribe to Mercedes-Benz on YouTube:
http://www.youtube.com/subscription_center?add_user=MercedesBenzTV
The EQA offers a whole new driving experience. The electro-aesthetics of the design signal Progressive Luxury. Back-lit trim and rosé gold-coloured highlights make the new interior stand out, while the new rear design with a stunning light band adds to its distinctive appearance.
The EQA is both efficient and exciting – with a powerful electric drivetrain and a high-voltage lithium-ion battery. It offers increased range thanks to improved drag – low wind resistance means high efficiency. And the navigation system with Electric Intelligence always calculates the best route – considering weather, topography, and available charging stations.
Discover digital products for your Mercedes:
https://shop.mercedes-benz.com/dcp/static/maintenance/distribution.html
The availability of the communication module (LTE) is temporarily limited for certain vehicles due to supply bottlenecks. Please note that especially Mercedes me connect services including the emergency call system (eCall) are not available in the affected vehicles. Ongoing actual information is available at your Mercedes-Benz dealer.
EQA 250:
Stromverbrauch kombiniert: 15,7 kWh/100 km;
CO₂-Emissionen kombiniert: 0 g/km.*
► For direct selection of a specific chapter, please select below:
00:00 Intro
00:31 Exterior & Interior Design
01:10 Driving Performance & Range
01:47 MBUX
02:13 Charging
02:31 Mercedes me
02:54 Safety & Assistance Systems
► Watch the EQA special:
http://mb4.me/eqa_special_ytb
► Experience the world of Mercedes-Benz:
http://benz.me/international
► More interesting playlists:
Mercedes-EQ:
https://www.youtube.com/playlist?list=PL0ORtgsuktflnDzcuLzkkYdAu5VCL-1Ys
Electric Drive:
https://www.youtube.com/playlist?list=PL0ORtgsuktfkY_LnNdtlTs_WF9xZ5d2lm
Plug-in Hybrid & Electric Cars:
https://www.youtube.com/playlist?list=PL0ORtgsuktfmgO9IXasYrLoSvZgAl3Zwo
► Mercedes-Benz on Social Media:
https://facebook.com/MercedesBenz
https://twitter.com/MercedesBenz
https://instagram.com/mercedesbenz
#MBeqa #mercedesEQ #mercedesbenzTV #eqa #eqa250 #h243 #mercedes #mercedesbenz
Product may vary after press date on 07.07.2021.
* Stromverbrauch und Reichweite wurden auf der Grundlage der VO 692/2008/EG ermittelt. Stromverbrauch und Reichweite sind abhängig von der Fahrzeugkonfiguration. Weitere Informationen zum offiziellen Kraftstoffverbrauch und den offiziellen spezifischen CO₂-Emissionen neuer Personenkraftwagen können dem "Leitfaden über den Kraftstoffverbrauch, die CO₂-Emissionen und den Stromverbrauch aller neuen Personenkraftwagenmodelle" entnommen werden, der an allen Verkaufsstellen und bei der Deutschen Automobil Treuhand GmbH unter
www.dat.de
unentgeltlich erhältlich ist.
http://mb4.me/WLTP_HQ