Mercedes-AMG CLA 45 S 4MATIC+ Coupé (2020): World Premiere | Trailer
페이지 정보
작성자
관리자

(66.♡.79.82)
댓글
0건
조회
20회
작성일

19-07-04 20:01
본문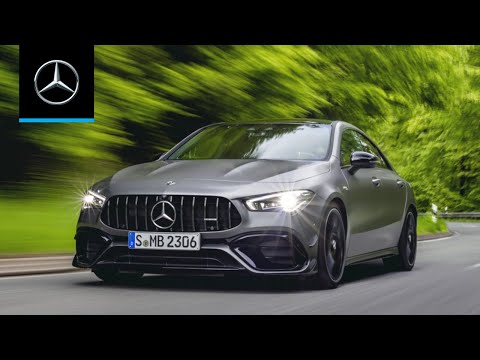 [Kraftstoffverbrauch kombiniert: 8,3–8,1 l/100 km; CO₂-Emissionen kombiniert: 189–186 g/km.*] The new Mercedes-AMG CLA 45 S 4MATIC+ Coupé (2020) compact sports car reasserts its leading position in its segment. Learn more about it here:
http://mb4.me/a45-and-cla45-com_ytb
The Mercedes-AMG CLA 45 S 4MATIC+ seamlessly continues the success story of its predecessors, while setting numerous new standards. Available in two output and torque variants, the completely newly developed 2.0-litre engine is the world's most powerful turbocharged four-cylinder engine manufactured for series production. Even the basic model with 285 kW (387 PS) is more powerful than its predecessor. The S-variant with 310 kW (421 PS) jostles with considerably higher vehicle classes. Perfect sequences in all driving situations, and fast gearshifts measured in milliseconds, are guaranteed by the new AMG SPEEDSHIFT DCT-8G dual-clutch transmission with eight gears. The active, fully-variable AMG Performance 4MATIC+ all-wheel drive distributes the power to the rear axle wheel-selectively by AMG TORQUE CONTROL – for top traction and the spectacular Drift mode. This is made possible by a new rear axle differential featuring two multidisc clutches – one for each rear wheel.
The new Mercedes-AMG CLA 45 S 4MATIC+ Coupé is even more distinctive than its predecessors. The exterior conveys sheer driving pleasure even at standstill. For the first time, the compact class now also features the AMG-specific radiator grille with a wider lower contour and twelve vertical louvres – as a clear indicator of AMG Performance family membership. At the same time, the pronounced "shark nose", the slim, deeply contoured headlamps and the flat, aerodynamically favourable bonnet with powerdomes visually lower the front section to create the impression of extremely dynamic forward thrust.
► Subscribe to Mercedes-Benz on YouTube:
http://www.youtube.com/subscription_center?add_user=MercedesBenzTV
► Experience the world of Mercedes-Benz:
http://benz.me/international
► More videos featuring the new CLA Coupé:
https://www.youtube.com/playlist?list=PL0ORtgsuktflhI_-El4VUzyATi-mTKOgp
► More interesting playlists:
CLA:
https://www.youtube.com/playlist?list=PL0ORtgsuktfm_1lGPhPA6-OjtRQXfMypl
Mercedes-AMG:
https://www.youtube.com/playlist?list=PLDE663109C5BC6913
World Premieres:
https://www.youtube.com/playlist?list=PL0ORtgsuktfmM5Z5MeX__m1wRwt0og9ce
► Mercedes-Benz on Social Media:
https://facebook.com/MercedesBenz
https://twitter.com/MercedesBenz
https://instagram.com/mercedesbenz
#MBcla #MBtrailer #mercedesbenzTV #cla #cla2020 #c118 #cla45 #cla45s #amg #mercedesamg #mercedes #mercedesbenz
Product may vary after press date on 04.07.2019.
* Die angegebenen Werte wurden nach dem vorgeschriebenen Messverfahren ermittelt. Es handelt sich um die "NEFZ-CO₂-Werte" i. S. v. Art. 2 Nr. 1 Durchführungsverordnung (EU) 2017/1153. Die Kraftstoffverbrauchswerte wurden auf Basis dieser Werte errechnet. Der Stromverbrauch wurde auf der Grundlage der VO 692/2008/EG ermittelt. Weitere Informationen zum offiziellen Kraftstoffverbrauch und den offiziellen spezifischen CO₂-Emissionen neuer Personenkraftwagen können dem "Leitfaden über den Kraftstoffverbrauch, die CO₂-Emissionen und den Stromverbrauch aller neuen Personenkraftwagenmodelle" entnommen werden, der an allen Verkaufsstellen und bei der Deutschen Automobil Treuhand GmbH unter
www.dat.de
unentgeltlich erhältlich ist.