Andrea Finkbeiner-Müller | One of Us
페이지 정보
작성자
관리자

(60.♡.9.52)
댓글
0건
조회
19회
작성일

19-06-09 00:59
본문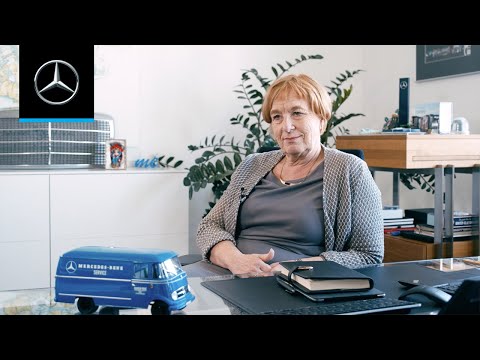 For our second episode of "One of us", we accompanied Andrea Finkbeiner-Müller, Chairman of the Board of Management of the renamed Mercedes-Benz Customer Solutions GmbH, for one day. Subscribe to Mercedes-Benz:
http://www.youtube.com/subscription_center?add_user=MercedesBenzTV
In our moving image format "One of us" everything revolves around introducing personalities and stories from the company and giving you exciting new insights into Daimler AG. We are especially proud to have Andrea Finkbeiner-Müller as protagonist for our second episode.
Andrea Finkbeiner-Müller has been the Chairman of the Board of Management since 2015 and has played a key role in the transition from Mercedes-Benz Accessories GmbH to Mercedes-Benz Customer Solutions GmbH in the past few months. The renaming is intended to focus even more strongly on the customer. In recent years, Andrea and her team have created the area of accessories as well as customer-specific solutions by means of individualisation, attractiveness and the extended benefits for vehicles as an extension of Daimler AG and its product portfolio.
CLS 450 4MATIC: Kraftstoffverbrauch kombiniert: 8,2–7,8 l/100 km; CO₂-Emissionen kombiniert: 187–178 g/km.*
► Learn more about Mercedes-Benz Customer Solutions:
https://mercedes-benz-customer-solutions.com/
► Experience the world of Mercedes-Benz:
http://benz.me/international
► More interesting playlists:
CLS:
https://www.youtube.com/playlist?list=PL32822B94DBDFC664
Brand Ambassadors:
https://www.youtube.com/playlist?list=PL0ORtgsuktfkILHeExgNiy9obACirnTbN
Stories:
https://www.youtube.com/playlist?list=PL0ORtgsuktfncFxPGLeCeB7of6HfQ-_Vx
► Mercedes-Benz on Social Media:
https://facebook.com/MercedesBenz
https://twitter.com/MercedesBenz
https://instagram.com/mercedesbenz
#MBoneofus #mercedesbenzTV #mercedes #mercedesbenz
Product may vary after press date on 08.06.2019.
* Die angegebenen Werte wurden nach dem vorgeschriebenen Messverfahren ermittelt. Es handelt sich um die "NEFZ-CO₂-Werte" i. S. v. Art. 2 Nr. 1 Durchführungsverordnung (EU) 2017/1153. Die Kraftstoffverbrauchswerte wurden auf Basis dieser Werte errechnet. Der Stromverbrauch wurde auf der Grundlage der VO 692/2008/EG ermittelt. Die Angaben beziehen sich nicht auf ein einzelnes Fahrzeug und sind nicht Bestandteil des Angebots, sondern dienen allein Vergleichszwecken zwischen verschiedenen Fahrzeugtypen. Die Werte variieren in Abhängigkeit der gewählten Sonderausstattungen. Weitere Informationen zum offiziellen Kraftstoffverbrauch und den offiziellen spezifischen CO₂-Emissionen neuer Personenkraftwagen können dem "Leitfaden über den Kraftstoffverbrauch, die CO₂-Emissionen und den Stromverbrauch aller neuen Personenkraftwagenmodelle" entnommen werden, der an allen Verkaufsstellen und bei der Deutschen Automobil Treuhand GmbH unter
www.dat.de
unentgeltlich erhältlich ist.